The toughest, prettiest, and longest holes at St. Andrews Old Golf Course
Links golf courses like St. Andrews lie next to a coastline on one side and the inward farmlands on the other. They are graced with natural foliage instead of the manicured beauty of other golf courses. And because of their location, strong sea winds blowing is a regular occurrence and an additional, ever-present, and gusty element of nature to contend with. Links courses rarely have any trees because of the land being unsuitable and the soil not providing the stability required for them to grow.
What we have instead, like at St. Andrews is indigenous seaside shrubs, grasses, and bushes, which can take the winds in their stride and flourish. It is not a practice to trim or mow them down making it impossible to play out of, thus a challenge that is rare. It is here at St. Andrews that the game has evolved for centuries before being developed to its final form that we know of today. If you are a professional golfer, this course will make you feel compxlete, if you are an amateur, it will turn you into a serious golfer. It is the home of golf and we are today looking at some of its famous holes across the 7 courses it houses.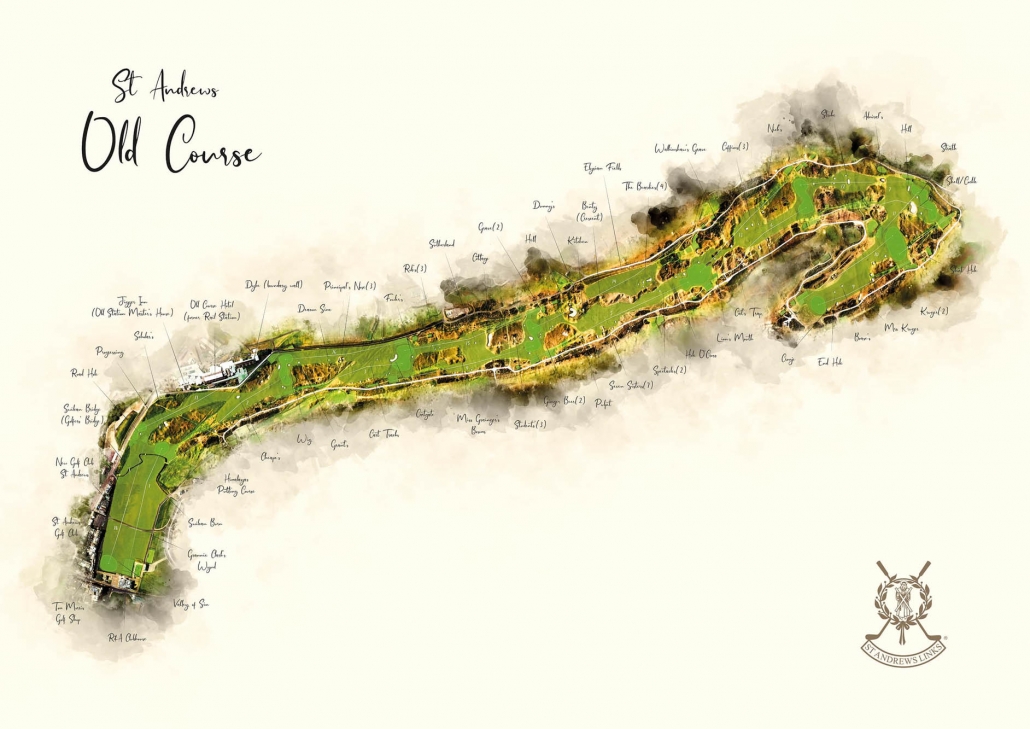 Location: Fife, Scotland
Length: 7305 yards, Par 72
Designed by Daw Anderson, Old Tom Morris
Hole 14 – Long | 618 yards, Par 5
This is one of the longest holes in Major Championship golf and the longest hole in Open Championship history. It has out of bounds all the way down the right and the Beardies Bunkers down the left  — so named because it has four small bunkers that are said to be difficult to mow. Then there is the kitchen bunker — a small pot bunker originally shaped like a coffin. The second tee shot needs to clear the infamous Hell Bunker that covers an area of 300 square yards and is between 7 feet and 10 feet deep. It has been named of the most notorious golfing hazards.
Hole 17 – Road Hole | 495 yards, Par 4
There is probably no more famous hole than this, and in some senses infamous. The par 4 at 17th is renowned as one of the most challenging holes in the world of golf. So many things can happen that aren't going to happen anywhere else in the world, because of the uniqueness of the hole. It is a narrow green wedged between a pot bunker and a road and framed by the Royal & Ancient clubhouse and the gorgeous town of St. Andrews. It is an ultimate risk-reward hole and no matter how many times you've played it, it never, ever grows old.
Hole 18 – Tom Morris |  357 yards, par 4
Undoubtedly, the most photographed hole in golf. With a fairway that is 140 yards wide. Crossing the Swilcan Bridge and taking the walk up towards the green make you feel like a legend. The Valley of Sin is a depression hazard and a potential eagle can turn into a bogey. No hole strikes a chord with golfing history ad much as Tom Morris at the Old Course.
The 1st tee at hole 1 – Burn is undeniably the happiest place on earth for golfers. A rite of passage, a pilgrimage, where you will be grinning ear to ear just having the privilege to stand on the hallowed turf, with a rich and varied history. Another chapter will be written soon when the last major of the year is played at the Grand Old Lady later in July.
Independence Day is just days away and Blue Tees Golf is having a July the Fourth Sale, which you can cash into. You can get the Series 3 Max as low as $199. And all other rangefinders and bundles are an additional $20 off. Please note that the limit is 1 per customer. Celebrate the peace and commemorate the heroes. Have a safe and happy Independence Day celebration. Here's to being born in a free country!
---