Our ambassadors connect us to communities around the world and provide us with insightful feedback so we can innovate and develop. Through our program, ambassadors receive development tools and experiences, get product to test, network, and earn excellent commissions. This partnership opens new opportunities for them and us to support the every-day and competitive golfer.

Up To 15%
Commission
$250 Monthly
Bonus*
20% OFF
All Apparel
FREE Rangefinder
After You Sell 5
SIGN UP TO SEE MORE PERKS!
*Only Accepting 30 Ambassadors Per Month
*Commissions paid Net 60 per sale at end of each calendar month

SEAN FOLEY
2010-14 TIGER WOODS COACH /
FULL SWING COMMENTATOR
"BLUE TEES GOLF HAS SOME OF THE BEST GOLF TECHNOLOGY ON THE MARKET AND THAT'S WHY I CHOSE TO PARTNER WITH THEM."
GEORGE GANKAS
WORLD-RENOWNED PROFESSIONAL
GOLF INSTRUCTOR
"THERE'S NO OTHER BRAND THAT I TRUST MORE THAN BLUE TEES RANGEFINDERS"
BRICE BUTLER
FORMER NFL PRO &
CURRENT GOLF ENTHUSIAST
"you need to go with a brand you can trust and blue tees golf has helped shave four to five strokes off my game"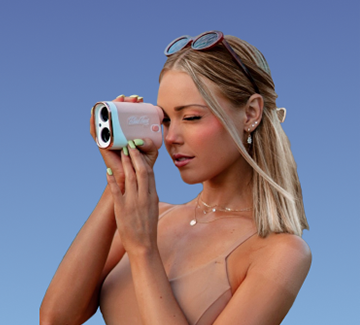 CLAIRE HOGLE
pro golfer & Blue Tees Brand Ambassador
"I LOVE BLUE TEES GOLF, AND THEY HAVE THE BEST RANGEFINDER"
BLUE TEES GOLF BRAND AMBASSADOR TERMS AND CONDITIONS

TERMS AND CONDITIONS OF BRAND AMBASSADOR AGREEMENT ON BEHALF OF BLUE TEES GOLF LLC (KNOWN AS BLUE TEES GOLF IN THE DOCUMENT).

1. As a Brand Ambassador, I understand and agree to the following:

By applying to the program, using #BlueTeesGolf or #BlueTeesGolfambassador, and/or tagging any Blue Tees Golf affiliated social media accounts, I am agreeing to the terms and conditions listed below:

I am not an employee, agent, franchisee, or partner of Blue Tees Golf . I cannot act on behalf of Blue Tees Golf and my posts are entirely my own ideas. I do not have any authority to incur debt, obligation, or liability on behalf of Blue Tees Golf .

I will promote and market Blue Tees Golf ' products to potential and current customers, family, friends, and followers.

Receive test/wear/model/experience and write about products on social networks (blogs, posts, pictures, videos, etc.).

I will share the brand message on social networks to the best of my ability.

Receive products and model them for promotions we create or to be used as product images.

Share content using our brand hashtags: #BlueTeesGolf #BlueTeesGolfambassador.

I will be an active member of the program or face potential dismissal.

I understand that I may not receive monetary compensation or gift cards for use of my images or videos used on the Blue Tees Golf ' social media networks, marketing material or website. I understand that I will only get compensated when someone makes a purchase using my unique and personal discount code to make a Blue Tees Golf purchase.

If orders are submitted without using my brand ambassador promotion code, these orders will not be credited to my account. No cash compensation will be provided by the Blue Tees Golf if the ambassador's code was not used. Only one promotion code can be applied per order.

I will not post negative comments, photos, etc on social media about Blue Tees Golf . Failure to refrain from posting detrimental content to Blue Tees Golf will result in my dismissal.

I will not share any brand ambassador only promotion codes, discounts, exclusive offers, etc with anyone who is not a registered Blue Tees Golf ambassador. The only codes I will share are the ones that are designated to me for public use by Blue Tees Golf .

I will not sell Blue Tees Golf products on unauthorized websites on the internet (such as eBay, Poshmark, Craigslist, etc) or in retail establishments.

I will protect the Blue Tees Golf trademark by not reproducing the Blue Tees Golf name/trademark or any Blue Tees Golf materials for use in advertising without the written approval of Blue Tees Golf .

I will promote Blue Tees Golf products on social media accounts by posting appropriate photos of marketing events showcasing the products to the best of my ability. I will contact Blue Tees Golf if a clear understanding of "appropriate" photos is needed. I will not receive any financial or other compensation for product promotion through my social media network.

Foul language, curse words, or any abysmal speech on posts, whether or not the post showcases a Blue Tees Golf product, will not be tolerated. I will abstain from posting any sort of crude language.

Bullying, hate speech, racism, sexism, homophobia, xenophobia anti-sematism, threats, or any other form of disrespect towards others will not be tolerated and will cause my immediate dismissal from the program.

I will not share the personal information of other ambassadors without their permission.

Blue Tees Golf reserves the right to remove an ambassador at any time for violating the terms of the ambassador program or for distasteful behavior. Therefore, I will conduct myself in a manner that reflects the highest standard of integrity and responsibility in keeping with the reputation of Blue Tees Golf . If I do not uphold these standards, I will be immediately removed from the brand ambassador program and forfeit any unused gift cards, rewards and all promotional codes effective immediately.
No agency, partnership, joint venture, employee-employer, franchisor-franchisee relationship, etc. is intended or created by this Agreement. If any provision of this Agreement is held to be invalid or unenforceable, such provision shall be struck and the remaining provisions shall be enforced.

If a dispute arises between you and Blue Tees Golf, we strongly encourage you to first contact us directly to seek a resolution. The Agreement is governed and any dispute or claim arising out of or in connection with it is settled in accordance with the procedure set forth in Blue Tees Golf Terms Of Service.

In our sole discretion, we reserve the right to change, modify, suspend, assign or discontinue this Agreement and Program at any time, including the availability of any feature or content. Blue Tees Golf may also impose limits on certain features or restrict Brand Ambassador's access to parts or all of the Program without notice or liability. The Brand Ambassador shall be responsible for reviewing and becoming familiar with any such modifications. Use of the Program by the Brand Ambassador following such modifications constitutes the Brand Ambassador's acceptance of the terms and conditions of changes as modified.

Headings are for reference purposes only and do not limit the scope or extent of the respective section. Our failure to act with respect to a breach by you or others does not waive our right to act with respect to subsequent or similar breaches. We do not guarantee that we will take action against all breaches of this Agreement. The Brand Ambassador waives any applicable rights to require an original (non-electronic) signature or delivery or retention of non-electronic records, to the extent not prohibited under applicable law.

We make no express or implied warranties or representations with respect to the Program or this Agreement or any products or services sold by Blue Tees Golf. In addition, we make no representation that the operation of the Site will be uninterrupted or error-free and we will not be liable for the consequences of any interruptions or errors.

You understand that the Site and policies are created and operated to abide by all such rules and regulations and you agree to defend, indemnify and hold Blue Tees Golf harmless from any of your violations of laws and regulation, including but not limited to, intellectual property rights, customers' privacy rights, etc.

This Agreement shall be governed and interpreted in accordance with the English language, regardless of any translations made for any purpose whatsoever.
Content that you post, submit, upload, display, sell or use using our Program and services is your Content for which you are solely responsible. You confirm that you have all necessary rights to the Content and that you're not infringing or violating any third party's rights by posting it or using it.

Blue Tees Golf expects the Content created by the Brand Ambassador to be a truthful and creative representation of Blue Tees Golf products that, depending on the purpose of the Content, educates followers and/or increases their curiosity about Blue Tees Golf. Blue Tees Golf is respectful of the Brand Ambassador's creative freedom to create Content in a way that inspires the Brand Ambassador's audience.

By participating in the Program and creating the Content, the Brand Ambassador agrees that Blue Tees Golf can use the Content on the Site, social media accounts, blog or in its marketing activities, and grants a worldwide, royalty-free, perpetual, non-exclusive right and license to copy, distribute, and display the Content in any media including posting in an online gallery, publication(s), and various marketing materials, with right to use, copy, modify, edit, and create derivative works therefrom. The Brand Ambassador also agrees to execute documents confirming such right and license at Blue Tees Golf's reasonable request.

Except to the extent permitted by applicable law, the Brand Ambassador shall not (i) use any illegal method of advertising to promote the Blue Tees Golf products, and the Brand Ambassador shall be solely liable for any such unauthorized communications; (ii) display the Content in any way that in Blue Tees Golf's discretion disparages or creates a derogatory or negative image of Blue Tees Golf; (iii) make any false or misleading representations relating to Blue Tees Golf, or engage in any other practices that could harm the reputation of Blue Tees Golf; or (iv) display any Content in a manner that contains or promotes (a) illegal activities or (b) Content that is misleading, violent, deceptive, or violates any third-party intellectual property, privacy or other rights of any kind. The Brand Ambassador is solely responsible for following all federal, state and local laws, regulations and rules regarding advertising claims, including but not limited to the FTC's Disclosure Guidelines.
This Agreement is effective at the time your application is, at the sole discretion of Blue Tees Golf, accepted by Blue Tees Golf and you are notified of such acceptance either in writing or electronically. Either party may terminate this Agreement at any time with or without cause. Upon the termination of this Agreement for any reason, all rights or licenses granted hereunder shall immediately terminate and you will immediately cease use of, and remove all links to the Site, and all Blue Tees Golf trademarks and logos, other marks and all other materials provided in connection with the Program.

Blue Tees Golf reserves the right to delete unconfirmed accounts or accounts that have been inactive for extended periods of time. By violating any applicable law or this Agreement, the Agreement will be terminated immediately and the Brand Ambassador understands and agrees that any and all benefits assigned and received can be immediately recalled or forfeit and that the Brand Ambassador's account will be immediately terminated.