Our Mission

Play Different.
We aspire to be more than another golf technology brand. We champion the progression of the game and motivate golfers to play different. That's why at Blue Tees Golf our mission has been to make high-quality equipment accessible to all golfers.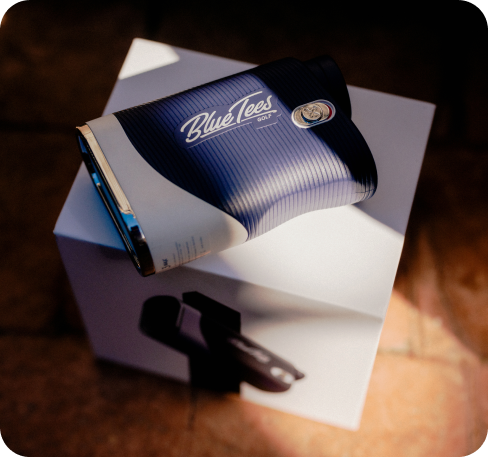 How We Started

Premium. Quality. Style.
We started as friends who love to golf. We fell victim to the cheap amazon rangefinder market, after a few short weeks, 3 of 4 broke. 1. Eye Piece Broke 2. Stopped Turning On 3. Distance off by 10+ yards. Why was it this difficult to find a high-quality, well-designed rangefinder without breaking the bank?
Luckily with combined backgrounds in technology & industrial design coupled with marketing it wasn't long until we introduced a product that checked all the boxes that no other brand could: Premium materials, Market Leading Technology, Style, & Affordablity!
2022 #1 Rangefinder by
Trusted By
Best Rangefinders By
Highest Rated Rangefinder
PROS TRUST
US
Top PGA Pros In America Choose Blue Tees Golf
"A Rangefinder is one of the most important tools in the bag and no one does it better than Blue Tees Golf."
DJ LANTZ

NCAA Golfer
"I switched from Bushnell to Blue Tees because they offer the same advanced features plus an elevated style..."
HAILEY OSTROM

Professional Golfer
"There's nothing I Trust more than Blue Tees Golf when I'm trying to get my yardage."
GEORGE GANKAS

Top Ranked PGA Tour Coach
200K+ GOLFERS LOVE
US
#1 Rated Golf Rangefinder By Golf Editor's Choice
David B.
Purchased: Series 3 Max
"I was dead set on the Big Name rangefinder even though I checked it out at the PGA Store and couldn't tell a difference except for the PRICE... I'm LOVING IT!!! Dead on from KD(known distance) and catches the flag with ease... I also got the Divot Tool and that thing is pure class... 51 years and hitting it long..."
Cameron A.
Purchased: Series 3 Max
"Absolutely worth the price!! This is my third rangefinder and the ease of use and accuracy is way better than my previous ones. My only regret is not buying one sooner!"
Spencer W.
Purchased: Series 3 Max
"Super easy to use, super accurate, quick, and durable... If you're in the market for a new rangefinder and are looking for a sign to buy the Series 3, look no further. Buy it now."